Our Ocala, FL septic tank cleaning services include cleaning the tank and educating our customers.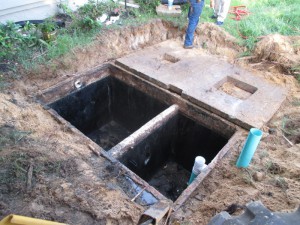 Your septic tank never gets time off. It is working, whether you are putting waste into the system or you are asleep. Because it is always on the job, it is important that it is functioning properly. Our septic tank cleaning services keep your tank up and running, so it can stay on the job day and night.
Septic tanks don't suffer in silence. They let people know where there is a problem. Pooling water, slow drains, sewage backups, and foul odors are all signs of a septic tank that needs a good cleaning. In addition, go out to your yard and look at the grass. If the grass by the drain field isn't as lush as the grass in the other areas, it is likely because the liquid in your system is rising too high, which could be a symptom of a dirty tank.
Our septic tank cleaning services don't just include cleaning the tank. We also educate our customers so they can avoid dirty tanks in the future. While tanks do get dirty over time, people often cause the clogs in a tank. We determine the cause of the clog and then give you some solutions so you don't repeat the problem. This saves you money and keeps your system in working order for the long haul.
Our septic tank cleaning services in Ocala, FL can get your tank back in working order before there is a serious problem. Contact us today at Marion Pumper so we can get to work and save your tank.
---
At Marion Pumper, we offer septic tank cleaning to our customers in Ocala, Summerfield, Belleview, and other nearby surrounding areas of Florida