You can count on us to keep your lift stations in prime working condition in Belleview, FL.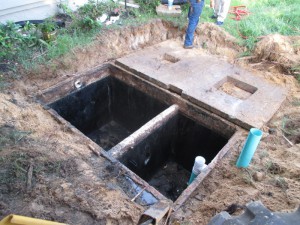 A key component of many septic systems is the lift station. Lift stations are used for pumping sewage up from a low elevation to a high elevation in areas where gravity flow is not enough. A lift station can also be used for economic reasons, pumping sewage over a hill so it can then follow the course of gravity down the hill and through the septic system.
Lift stations are comprised of several components, including the receiving well, the lift pump, and the junction box/control panel. There are two main kinds of lift stations: a grinder pump and a solids-handling pump. The type of lift station and pump installed on your Belleview, FL property will be determined by the layout of the land and the location of your septic system.
Just as you need to have your septic tank pumped and cleaned on a regular basis, you also need to maintain your lift stations. When properly maintained, a lift station can be expected to last for 15 to 20 years, and this is especially true for steel lift stations, since they are often coated with high-solids epoxy to protect against erosion.
Cleaning and maintaining the lift station for your septic system is no easy task, so you should leave it to our professionals at Marion Pumper to do it for you. We not only offer routine maintenance services, but we also offer 24-hour emergency services. Call us for all of your septic needs, day or night—you won't be disappointed.
---
At Marion Pumper, we offer lift stations to our customers in Belleview, Summerfield, Ocala, and other nearby surrounding areas of Florida