We know everything there is to know about septic tanks in Ocala, FL so make us your first call for repairs or replacements.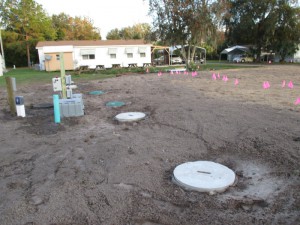 The typical septic system is comprised of two main components: the septic tank and the drain field. The septic tank is where the wastewater goes after leaving your home or business, and is also where the first stage of processing takes place. Solids are separated from liquids, and the treated water exits the septic tank through the drain field, which is a network of perforated pipes that serves to further filter the water before it is released back into the environment.
Septic tanks come in a wide variety of different sizes, so the septic tank you have installed on your property may be different from the one your neighbor has. Small septic tanks are usually sufficient for homes with only one or two bathrooms, but larger septic tanks will be needed for commercial applications like office buildings or apartment buildings.
To make sure you have the right septic tank installed on your property, be sure to hire a professional septic service like Marion Pumper for the job. When you hire us, we will send a team of trained professionals out to your property to perform an assessment and inspection. We will then design a septic system to suit your needs and install it ourselves. After the job is complete, you can count on us to provide supportive services, as well.
When it comes to septic tanks, no one is more knowledgeable or experienced than our team. At Marion Pumper, we have many years of experience designing, building, and maintaining septic tanks in the Ocala, FL area, so for all of your septic service needs, make us your first call.
---
At Marion Pumper, we offer septic tanks to our customers in Ocala, Summerfield, Belleview, and other nearby surrounding areas of Florida